CEU QUESTIONS/ANSWERS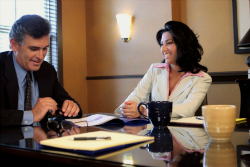 SLP Continuing Education Requirements
Speech language pathologists must complete continuing education hours required to renew both their state SLP license (issued by the Board of Healing Arts) and their Certificate of Clinical Competence issued by the American Speech Language Hearing Association (CCC).


ASHA compliance:

1) You must earn 30 Certification Maintenance Hours (CMHs) and submit a compliance form as verfication by the end of each 3 year certification maintenance interval. You may want to research your interval at
www.asha.org
.
2) You must maintain your affiliation by paying annual dues/fees to
ASHA
.
3) You must abmide by ASHA Code of Ethics.

State Board of Healing Arts Compliance:
Are available through the following website -
https://pr.mo.gov/healingarts.asp


Click on our Events page now to see what we are hosting for our next event! We hope to see you there!
HANDOUTS
Our speakers are not under contract to provide handouts. However, many times our speakers would like to put something in your hands to give you resources and tools that will help you. When there are powerpoints and longer materials, MACDG has 'gone green' and opted not to print them for you. We still want you to have access to them. After we host the conference we will provide a link on the website that will provide you the opportunity to print them for yourself. The benefit of pre-registering is to have access to the handouts a week prior to the conference so you can print them before you come and use them to write your notes on during the conference. When we printed them in the past we found that we either had too many and wasted a bunch of paper or we didn't have enough to share with all the attendants. We want all of our attendants to be very happy!!
PRE-REGISTRATION
Pre-registration is not always required. When it is, we will tell you the time-frame and how to pre-register. Pre-registration is a big deal for MACDG. It helps us know how to prepare the conference rooms (number of tables, chairs, whether or not to use two screens). It helps us to know how provide for food, snacks and beverages (when we are unsure of how many people will come we can accidentally waste food or not have enough for our guests). It helps us know if we can realistically print handouts or provide other tools. We appreciate when you pre-register so much we take off $10.00 for the event. We want to make it easy for you. If you are not sure how to pre-register, then please ask us on our facebook page, by email or through the "contact us" page. Thank you to those who pre-register!! It really helps us!